Experience a whole new way of cycling!
Cover lots of iconic sights on a guided tour or rent one on your own
Bike around the city of Copenhagen on your very own E-bike
Cover many great sights of Copenhagen on one of our E-bike tours
Only 495 DKK pr person for a 2 HR experience you will never forget!
Cover much more grounds than with a normal bike!
Tours by professional locals
All our guides are local experts and love everything Copenhagen. They always know what is going on in the city and their true passion is showing visitors, locals and tourists just how magical it is.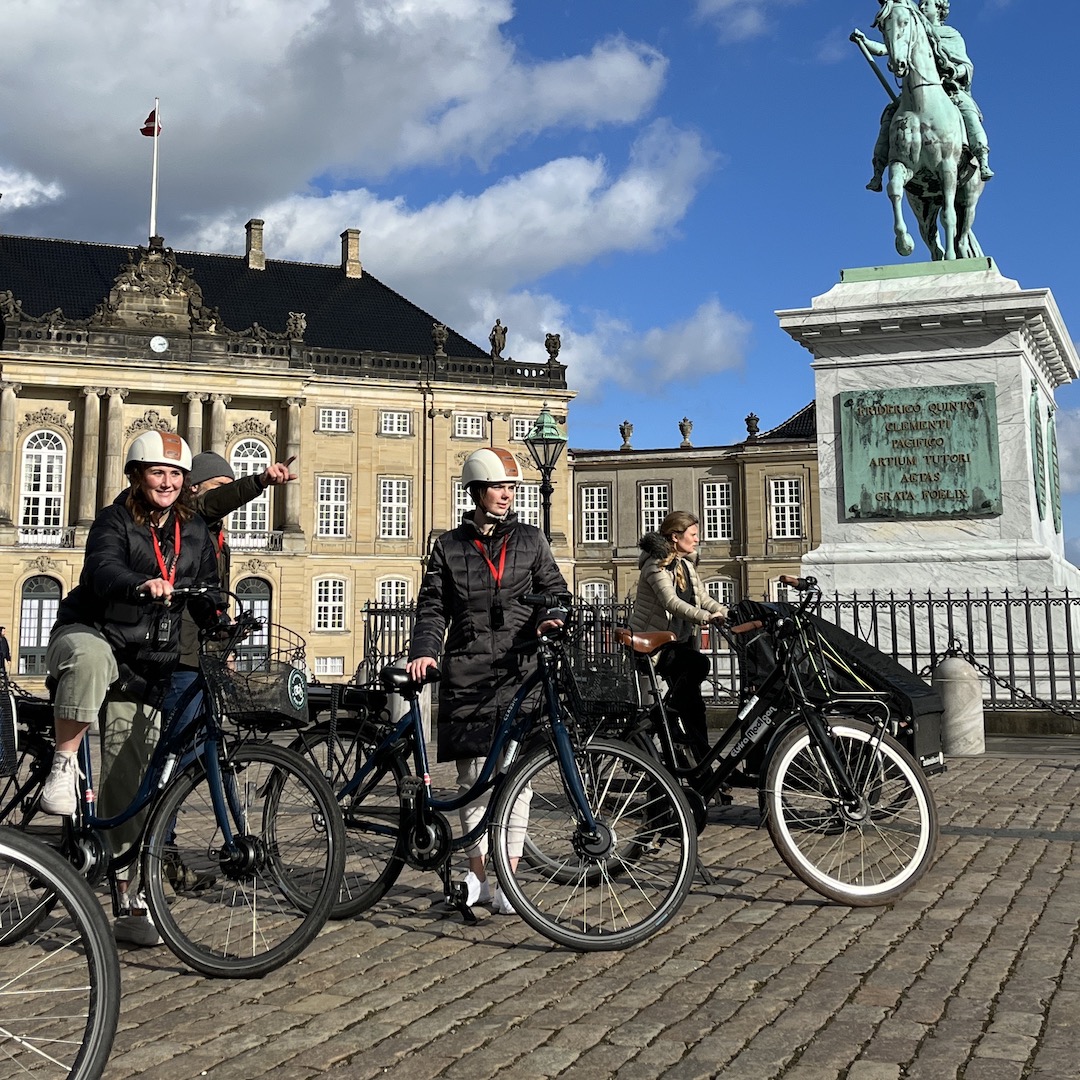 Personable guided tours
Our guided tours are kept small and intimate so you almost get the feeling that it is your own private tour. We never exceed more than 15 people per e-bike tour and thereby you are always in close proximity to your guide.
Off the beaten track
We show you parts of Copenhagen you didn't know about and the regular Copenhagen tours won't be able to cover. On an e-bike we will have the time to go into cute courtyards and the small side streets while still covering the more grand sights of Copenhagen that are a must-see. Book a tour now and experience it for yourself! 
Tour Attractions
We have specifically devised a great route straight from our shop in Nordhavn into the main city center, so you get to see the very most! On our 2 hour tour you will cover the Little Mermaid, The Queen's Palace, Nyhavn & Kongens Nytorv - to name a few. We will even make it over to Christianshavn with a stop in the middle at Christiania and then of course Christiansborg Palace - and much much more! You will have a blast on our guided tours - all our guides are passionate about delivering memorable moments of Copenhagen to each of our guests.
Guided city tours classic or architecture
2 hours tours with daily departures
Private Tours & Company Events
All over the country and Copenhagen
Rent an e-bike
From 245 DKK pr person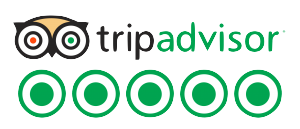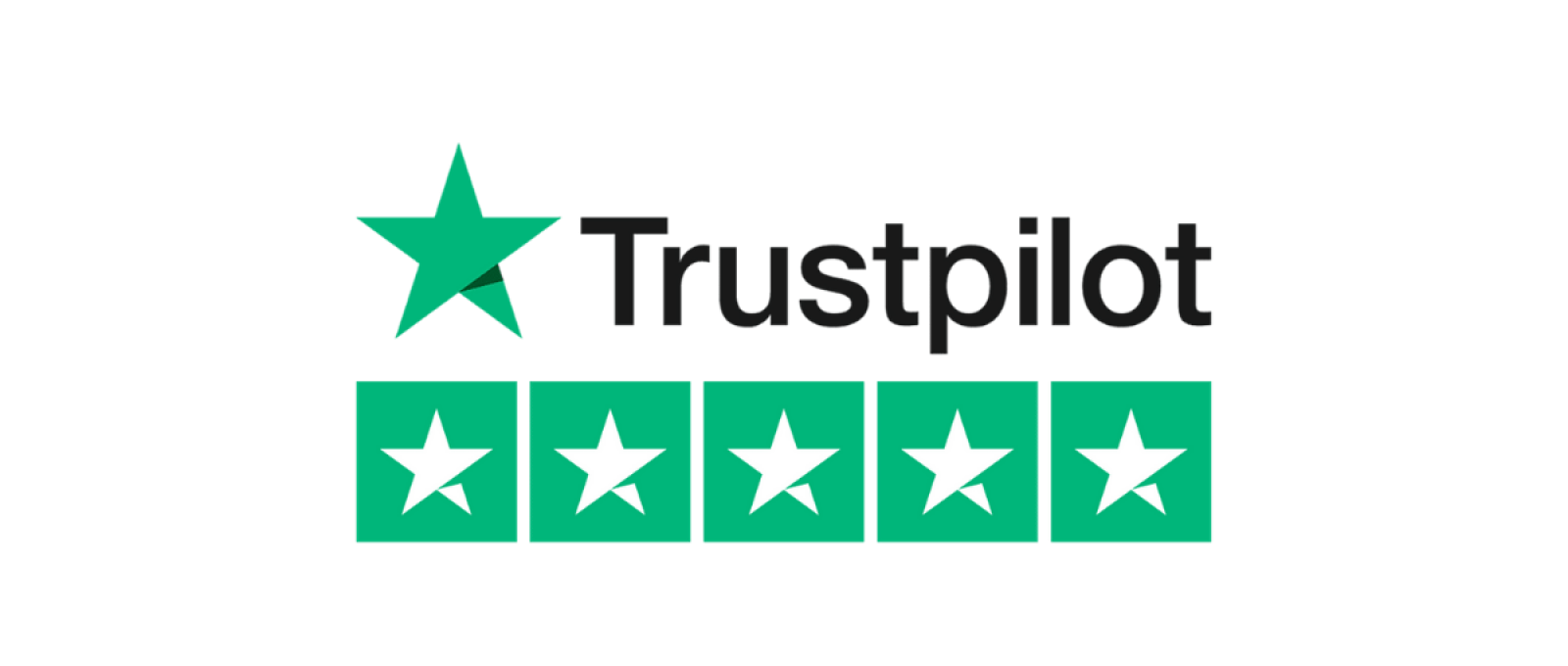 Do you want to rent an e-bike or book an e-bike tour?
Decide and just follow the easy steps to confirm your e-bike experience  
Do you want to rent a bike?
Click below and check out our availability!
If you are a family with kids we have all the extra equipment needed to truly make it a family experience on our e-bikes! You can add a cargo trailer or a kids seat alongside your rental. The cargo option you can also just book if you are anticipating doing a lot of shopping in Copenhagen! 
There are special discounted prices the longer you book your e-bike for.
Do not hesitate having to experience Copenhagen from an e-bike. 
All our e-bikes come with a basket so you can always bring your own stuff.
Helmets and a charger are included as well. 
Do you want a guided tour? 
We run comprehensive 2 HR guided tours of Copenhagen on a daily basis. We have 3 departures every day. See which one fits in best with your Copenhagen activities.
Click below on the "book now" button to secure your spot!
If you are a family with kids then you can add on a cargo trailer or a kids seat to your bike. Our tours are family friendly and while you take in the new information about the city, your kids can chill and enjoy too.
When you arrive, your guide will welcome you and equip you with an earpiece and helmet. Thereafter there will be a quick intro to the e-bike and off we go!  
All our e-bikes come with a basket so you can always bring your own stuff. 
You're good to go!
Come and meet us at our location:
Amerika Kaj 33, 2100 Copenhagen  
After you have made a booking, you will immediately receive your confirmation!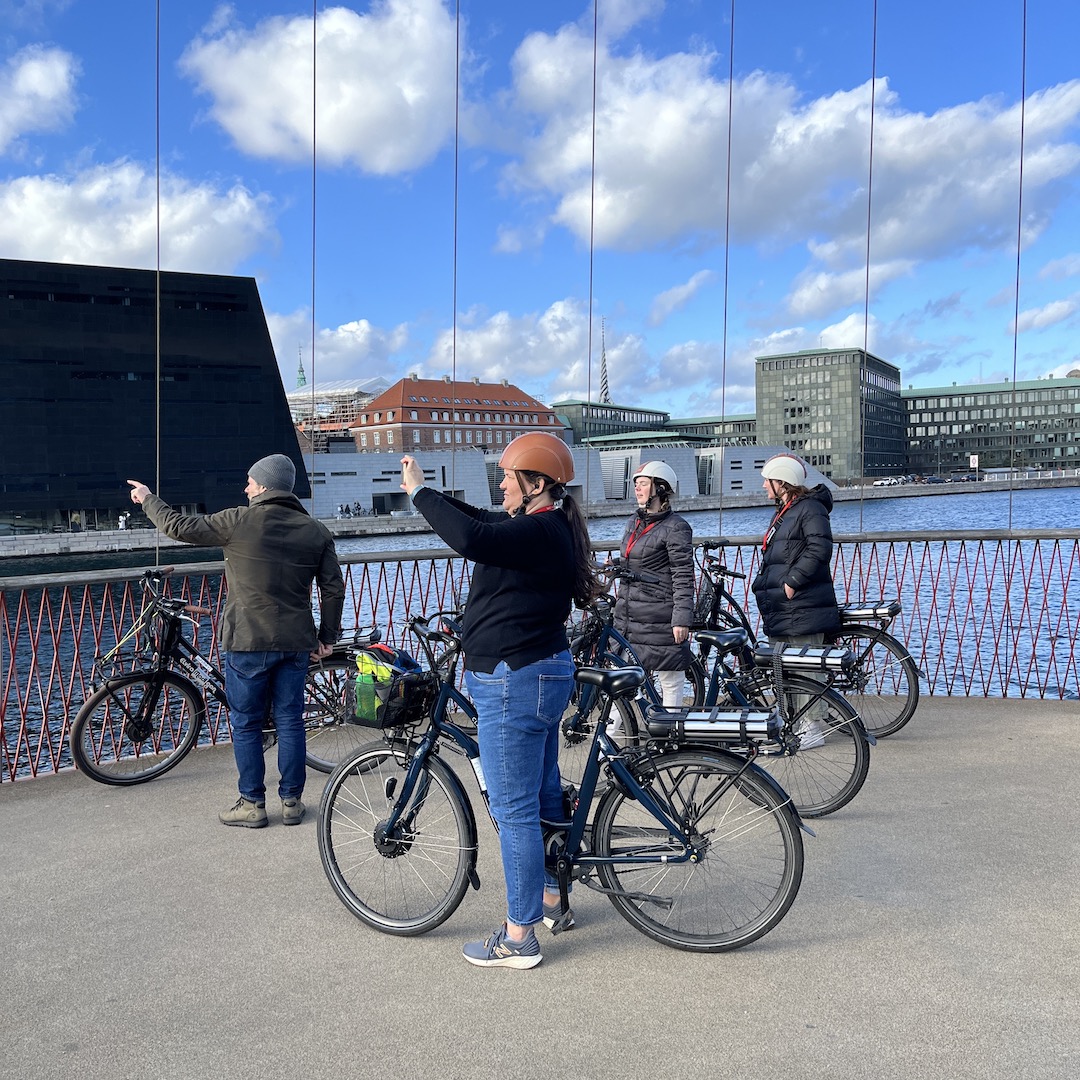 "ELVIRA" our best E-bike
When you book an e-bike with us – whether it is a rental or for a guided tour, you get our premium model, ELVIRA – our very own Danish produced bike. It is unique, solid, retro and has won several quality tests. It has a range of 40-80 km on a full charge, which is of course how you always get the bikes.
Why we are so confident that you will be able to cover some serious grounds on our e-bikes is because it can go up to 30 km/ hour.
The Elvira e-bike models have undergone thorough testing for the past 15 years and are one of the most sturdiest models on the market. They are known for high quality and safety.
When you arrive to either pick up your rental or to go on your tour, we will give you a quick overview of how the bike works.
So always feel safe and in good hands when booking with Copenhagen E-bike!
World's Cycling Capital
In Copenhagen, practically every local person rides a bike or at the very least owns one. There are more bikes than cars in Copenhagen. If you want to try to experience life through the lens of a real Copenhagener, you can rent a bike and roam around the city on two wheels on your own.
Remember to always bear in mind the bicycle rules in Copenhagen! 
When you book your e-bike rental our customer representative in our shop is always ready to assist with any questions you may have. Otherwise the rules are pretty simple and straightforward. However, we always recommend that your familiarise yourself with the rules of a new country and therefore you can read more here:
https://www.cyklistforbundet.dk/english 
https://www.visitdenmark.com/node/849 
Don't worry about a thing! 
All our bikes come with:
– Helmets
– Automatic locks on the e-bikes themselves so no extra hassle! 
– A basket in the front where you can leave your stuff
– Fully charged bikes
– The charger (for rentals)
For the kids!
You can for a small extra fee get a cargo bike so you don't have leave the smaller kids behind on any Copenhagen experience.They can sit comfortably in the cargo trailer or on an actual child seat and enjoy the ride. You won't even be out of breath as you would on a normal bike peddling the kids around, but can easy breezy get around while enjoying it. 
Classic Christiania Cargo Bike
You can rent the Classic non electric and the Classic electric 7 gears Christiania bike for kids, for the family, for the dog and everything else. We offer the the ultimate cargo e-bike with powerfull engine for the perfect family tour in the city or the non electric as a cheaper alternative.
If you just want a quick stroll around the city without too much commitment – then this is the option for you!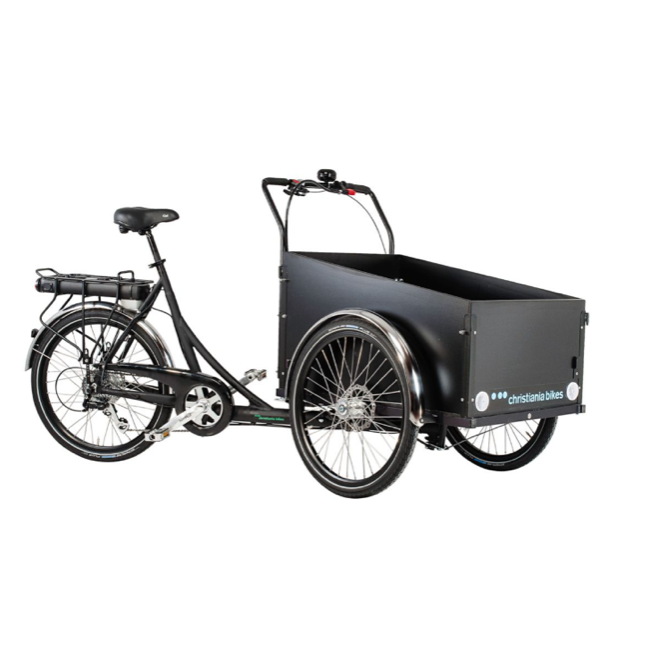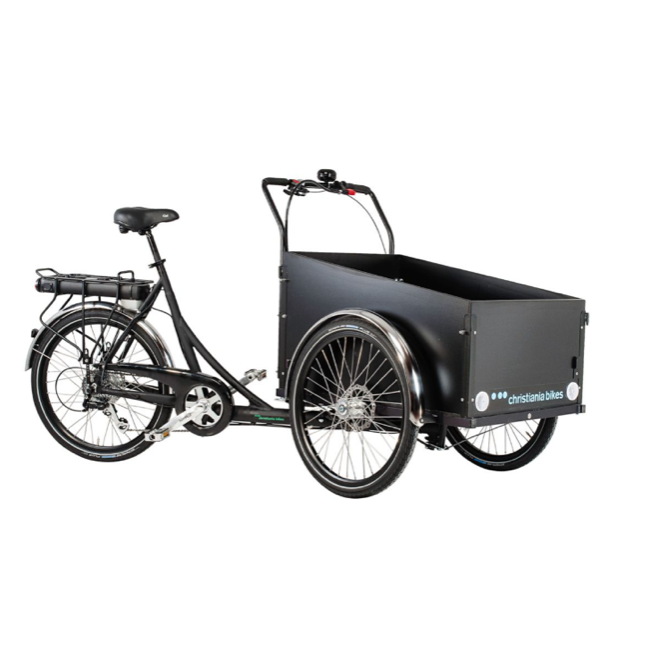 Classic Christiania Cargo Bike
You can rent the Classic non electric and the Classic electric 7 gears Christiania bike for kids, for the family, for the dog and everything else. We offer the the ultimate cargo e-bike with powerfull engine for the perfect family tour in the city or the non electric as a cheaper alternative.
If you just want a quick stroll around the city without too much commitment – then this is the option for you!
Frequently asked questions
Didn't you get the answer below? No worries, give us a call or send a message.
What are the heights of the e-bikes?
The ELVIRA e-bike saddles can be adjusted, the lowest, to the total height from floor to saddle = 52 cm.
As we are talking about saddles - we again need to mention that we have a very comfortable seating option here for you with our Elvira E-bikes 🙂 
Coming from a cruise ship or with the DFDS ferry?
If you are arriving from a cruise ship at Ocean Quay then we are only a 10 min taxi ride away. If you are coming with the DFDS ferry, we are in walking distance; more accurately a mere 2 minutes. We are ideally located for all cruise ship guests wanting to jump on an e-bike tour or rent a few bikes. This is perfect if you only have a day before your cruise leaves again.  
Can we bring our kids along? And at what age can kids get their own bike?
You easily bring your toddlers or smaller kids with you. When you book there is always an option to add a cargo trailer or a childs seat. The cargo bike will hold up to two kids with max age of 8 years (can also hold 1 child. Max total weight 45kg and sitting height 60cm). The child seat will hold one child with max age of 8 years. The chassis height is 52cm and please remember it is an e-bike so it will go faster than normal bikes - you need to make sure your kid(s) are comfortable and safe riding. o be able to ride our Elvira bikes, . 
Can we start or stop from other locations?
We do provide this option for an extra fee. Please contact us if you want us to drop off or pick up your e-bike rental. For tours we only start or stop at other locations for private tours. All the prices you see quoted on our website are for our rentals and tours that are based at our address on Amerika Plads number 33 (Plesner building). If you are doing a rental of our e-bikes then you would have to come to us for pick-up and drop-off.
For our tours, starting and stopping is also from our location on Amerika Plads number 33 (Plesner building).
If you are booking a private tour or a company event at a different location, transport of our e-bikes can be arranged for an extra fee. Please call or email us directly with what you have in mind and we can give you an exact quote. 
What if we have rented e-bikes and are delayed?
If you have rented our e-bikes and are delayed for your pick up during opening hours for day rentals - the delay will go towards your rental period. Please note that if you are not able to pick-up the e-bike during opening hours on the 1st day of your rental, your rental period will start 10.30am the following day. No refunds nor extensions are given in such cases. If you are delayed for your drop off then pr extra hour begun there is an extra fee of 195 kr / hour per bike. If it is after closing time you are delayed and cannot hand the e-bike in before the day after then there is a fixed late-fee of 450 kr. If you are late for pick-up then you would have to settle your fee before being able to get the bikes and if you are delayed for delivery then you will of course pay this penalty upon arrival with the bikes.  
What are the most important bicycle rules we should be aware of in Copenhagen?
Always keep to your right and make way for other cyclists wanting to overtake you. When you need to make left hand turns in intersections then you cannot turn diagonally with the cars. You will have to go straight across and then wait for the green light signal to go over again. For a more visual explanation then please see: http://cycleguide.dk/2010/05/how-to-do-a-hook-turn/
Using your phones while e-biking is also prohibited and you can get a fine should the police catch you. If you need to take pictures then make a full stop and do so.
Wearing safety helmets are not a requirement but at your own discretion, personal need for comfort safety. We do recommend it especially if you are not used to biking. We will always be advocates of putting your safety first and therefore helmets are included in all tours and rentals. 
E-bike rental in Copenhagen
You pick a time-slot that suits you to pick up your e-bike at our shop location in Nordhavn (Amerika Plads 33, 2100 Copenhagen). Our sales representative will give you a short intro to the e-bike that you are renting and thereafter you are good to go! You will be offered to take a helmet if you wish; these are not mandatory in Denmark. Your bike will also be equipped with lights which are needed when it gets darker in the mornings and/ or evenings. Each e-bike will also have a basket in front where you can keep some stuff if needed. Further included is a charger to your battery. All our bikes have the smart self-lock system so there is nothing extra needed to ensure there is no theft.
Guided tours in Copenhagen on e-bike
Once you have booked your guided tour all you have to do is ensure you show up on time and in good spirits 🙂 Your guide will welcome you and get you in the saddle. Soon enough you will be on your way listening to your guide telling all sorts of information  via our radio system. Due to this radio system we can ride while pointing out sights in Copenhagen and we do not have to stop all the time. Of course we have built-in photo stops and there is always flexibility on our tours to make extra stops should you wish more instragrammable moments..
Private guided tours – Copenhagen
If you want to have an experience of Copenhagen only for yourself and your own group of people this can certainly be arranged. We can extend the tour to last 3 hours and then you will really be an expert in maneuvering Copenhagen afterwards! Your guide will plan a great route for you and you can also make specific requests and we will of course see if we can manage to incorporate it.
Please do enquire directly with us for private e-bike tour by either calling or emailing us. Remember to mention which date and timing you are interested in along with how many people are in your group.
Copenhagen Bike Tours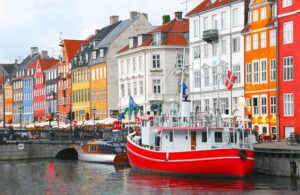 Copenhagen is a great city to visit and have a feel of the beautiful natural sceneries around. The coastal city is popular for its cycling culture, which sees many tourists flocking it. If you're planning to visit Copenhagen, you should not go back without enjoying the e-bike tours and rentals common in this place. Read on to understand the best places to visit in Copenhagen why you should consider biking here.
What Makes Copenhagen a Great Tourist Destination
Copenhagen is the capital city of Denmark, and its name has a Danish origin meaning a merchant's harbor. This great tourist destination is the happiest city in the world. It is known to have the most friendliest people and great culture. You will love mouthwatering dishes in Copenhagen. The city also has several churches and museums that you can visit. It has an oceanic climate, but if you want to enjoy summer in Copenhagen, visit between June and July when the sun is out.
Since the weather in this city is unpredictable, it's advisable to carry warm and light clothes to avoid inconveniences. However, Copenhagen is also a great place to visit during winter when it has beautiful Christmas markets with souvenirs and gifts. Copenhagen has a reliable public transport system you can use to move to different places. The busses, metros, s-train, and bicycles are available any time. All these are safe and affordable modes of transport for both locals and tourists. But you need to select the right modes of transport depending on the weather.
Where To Visit Copenhagen By Electric Bike
If you're in Copenhagen, look for our bike tours for quality bikes to help you move to different tourist attraction sites around. You can visit the following places when in this city for example:
The Citadel – This is one of the historical sites you can visit while in Copenhagen. It is one of the most maintained fortresses in northern Europe and was founded in 1626 by Danish king Christian 4. It has a unique pentagon shape with bastions on the corners, which is good for taking great pictures. It also houses a church windmill, some of the most beautiful places to relax in Copenhagen. The buildings in this area are currently used as military barracks and offices. However, it's open to the public who would wish to jog or run. So, you can exercise to keep fit after spending some days cycling around this city.
The Gefion Fountain – While in Copenhagen you can also spend some time in Gefion fountain, the largest fountain in Osterbro. It is in Langelinie Park. This large monument is believed to be a goddess of wishing well. This fountain has a large-scale group of oxen pulling a plow and is driven by the Norse goddess. According to history, the goddess ploughed the island of Zealand out of Sweden with the help of four oxen. With the assistance of her four powerful oxen sons, they managed to get deep into the ground, raising the land and pulling it into the sea, resulting in the island of Zealand.
The Little Mermaid – Another outstanding tourist attraction in Copenhagen is this little mermaid statue. It was founded in 1938 by Danish brewer Carl Jacobsen. But the bronze and granite sculptures were inspired by Christian Andersen based on a fairy tale theme. It was unveiled/created by Edvard Eriksen in 1913. According to Andersen's fairy tales, a mermaid came out of the sea because she had fallen in love with a prince. Since the prince didn't love her, she had to go back to the sea. You can use a boat tour to see the mermaid from a closer view. However, since it's perched on a rock, it's better to see it while on an e-bike on the land, which offers a great viewpoint.
Why Explore Copenhagen By E-Bike?
Copenhagen is the world's leading city for cycling which saw it win the title of the European green capital in 2014. The road network in this city encourages the use of bikes and that's why it has less cars than bikes. The innovative bridges and superhighways make it a safe place to cycle on an e-bike to any destination in Copenhagen. The routes and cycling paths offer scenic views you'll enjoy watching while on the go. You can take the shorter or longer routes leading out of town depending on your plans for the day and enjoy. Some popular routes to consider cycling are the circle bridge-Cirkelbroen, the Amager strand beach park, or the harbor circle route. However, you must abide by the rules like cycling on the right lane and using signals to prevent accidents.
Touring Copenhagen by bike is also a good choice as it allows you to interact with different people as it's the common means of transport. You will get to feel the friendliness and how happy the people in this region are. Moving around with an e-bike in Copenhagen also enables you to understand the road rules and culture. You will avoid fines and unnecessary confrontations with the authorities. Opt for a Copenhagen electric bike if you want to discover the city's historical sites and culture. You will connect to different destinations through a bike, saving you some cash that you'd have used to hire a taxi.
Further Advantages Of Using An E-Bike
Currently, people are working towards reducing their carbon footprint globally. So, if you are in this course, consider using an e-bike for your Copenhagen tours. This bike will enable you to reach different corners without straining. It will also allow you to cover longer distances encountering no challenges. You will also not get stuck in traffic when using an electric bike in Copenhagen, which means you'll be saving time. The most outstanding reason to choose this bike is that it's safer and faster. This will let you reach your destination faster, which is a plus for a tourist who wants to visit more attractions in a day. The electric bike will also keep you fit as pedaling helps burn calories and improve muscle endurance. So, if you're looking to rent a bike in Copenhagen, check out our bike tours and enjoy going to different places within the city with ease.